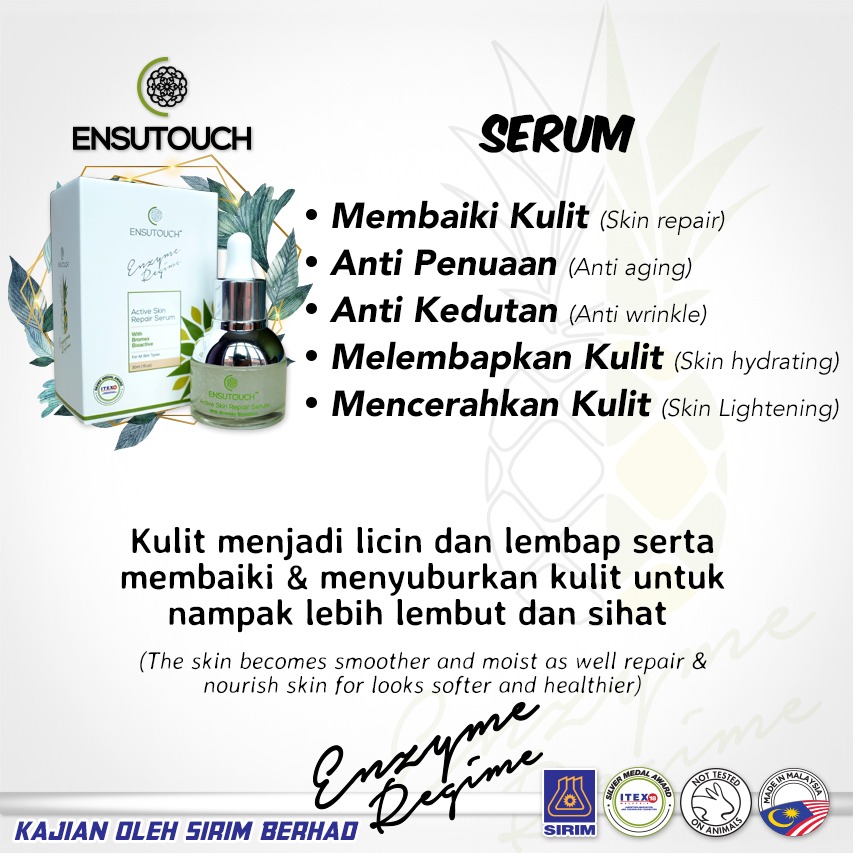 Serum Ensutouch bersifat anti-penuaan dan membantu mengurangkan kedutan serta garis halus pada wajah. Ia juga membantu mengekalkan kelembapan kulit di samping memberikan khasiat yang tinggi untuk kelihatan lebih muda & bersih.
Cara penggunaan:
Titiskan amaun kecil serum dan sapu pada seluruh bahagian muka, leher dan bahagian bawah mata. Tunggu beberapa ketika untuk serum kering sebelum menggunakan foundation. Boleh digunakan sebagai pelembap harian, atau sebelum menggunakan krim malam untuk memaksimakan kesannya semasa tidur

Bahan:
Aqua, Sodium Hyaluronic, Bromex Bioactive, Xylitylglucoside And Anhydroxylitol And Xylitol, Ethoxydiglycol, Octoxynol-11, Polysorbate 20, Hydroxyethyl Acrylate, Glycerin, Phenoxyethanol, Etylhexylglycerin, Tocopheryl Acetate, Caprylyl Glycol (and) Ethylhexylglycerin, Parfum
Isipadu : 30ml
PEMBELIAN MELALUI WHATSAPP? KLIK SINI >> WHATSAPP
KAMI MEMBUKA PERKHIDMATAN BARANG SAMPAI BARU BAYAR(COD) KEPADA PENGGUNA ENSUTOUCH KHAS UNTUK PENGGUNA SEMENANJUNG SAHAJA.
Tuan puan hanya perlu bayar pada posmen apabila barang sampai. Kami menggunakan courier Ninjavan untuk perkhidmatan COD ini. Sekiranya berminat boleh whatsapp di sini --> WHATSAPP COD